(With Apologies to William Shakespeare)
Baklava is that sweet-smelling, great-tasting dessert that everyone loves!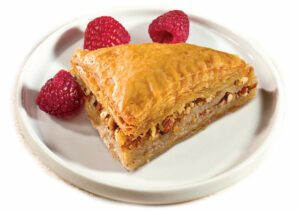 It is a common dessert for the nations bordering the Mediterranean Sea in North Africa, the countries within and bordering the Arabian Peninsula, Turkey, Armenia, Georgia, Greece, the Balkans (Albania, Bulgaria, and Romania), Azerbaijan, Iran, Afghanistan, Pakistan, India, and even as far as Mongolia. 
Each country has its own variation, and the word "baklava" has minor spelling and phonetic differences in each language. In all these variations, the basics are the same and include: 
very thin sheets of dough (phyllo)

 

nuts

 

spices

 

butter, ghee, or oil (a lot of butter or oil)

 

sweet syrup. 
The majority are created when individual sheets of buttered or oiled phyllo dough are layered on top of one another, followed by a mixture of nuts with some spices, and finished with additional buttered phyllo. They are scored and baked, and then a sweet syrup is poured or drizzled over the top. Traditionally, the nuts used are those abundant in that region: almonds, cashews, hazelnuts, pistachios, and/or walnuts. While some baklava recipes feature only one type of nut, others have a blend of several. The spices that are used include cardamom, cinnamon, coriander seeds, clove, and saffron. The syrup is always sweet and can be many different flavors. In some cases, honey, rose water, and orange flower water may be added to the simple syrup (or sugar water), although some variations use only one of these. The final product is then cut into diamonds, rectangles, or triangles. 
The number of layers varies in each recipe. Greek baklava is traditionally made with thirty-three buttered phyllo layers, walnuts and/or almonds seasoned with cinnamon, and a honey sweet syrup. They are cut into triangles or diamonds. 
In Azerbaijan, there are several regional varieties called pakhlava. Baku pakhlava has eight to ten layers and is filled with almonds or walnuts. The top layer of phyllo is brushed with egg yolk that has been combined with saffron, and it is finished with either a halved walnut or chopped pistachios centered on each diamond-shaped piece. Finally, sweet syrup or honey is poured on top. Alternatively, Ganja pakhlava is made with eighteen layers of phyllo, with eight layers of almonds blended with cardamom, cinnamon, and sugar on every third layer of phyllo. The top layer is coated with egg, baked, and drizzled with sweet syrup. Other Azerbaijan pakhlava are detailed further down in this article. 
Iranian baklava is lighter than other Middle Eastern versions. It is made with a blend of chopped almonds and pistachios spiced with cardamom, then cut into smaller diamond-shaped pieces and drizzled with rose water. 
Turkish baklava is traditionally made by filling the layers of phyllo with pistachios, walnuts, or almonds in some parts of the Aegean Region. In the Black Sea region of Turkey, hazelnuts are commonly used. Another variation is sütlü nuriye, a lighter version of baklava that uses hazelnuts and substitutes milk for simple syrup. This makes the dessert heavier in weight but lighter in taste. Another recipe for Turkish baklava is güllaç, considered by some as the origin of baklava. Layers of phyllo dough are placed one by one in warmed milk with sugar. It is served with walnuts and fresh pomegranate and generally eaten during Ramadan. The first known documentation of güllaç was in a Mongolian food and health manual written in 1330. 
But baklava is not always layered: baklava fingers, flogeres, nut rolls, and saragli are rolled.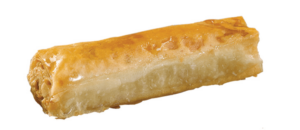 In the case of fingers and flogeres, several sheets of buttered phyllo are laid out with a thin layer of ground nuts spread across them. They are rolled up tightly, scored to form finger-length logs, baked, and then drizzled with sweet syrup.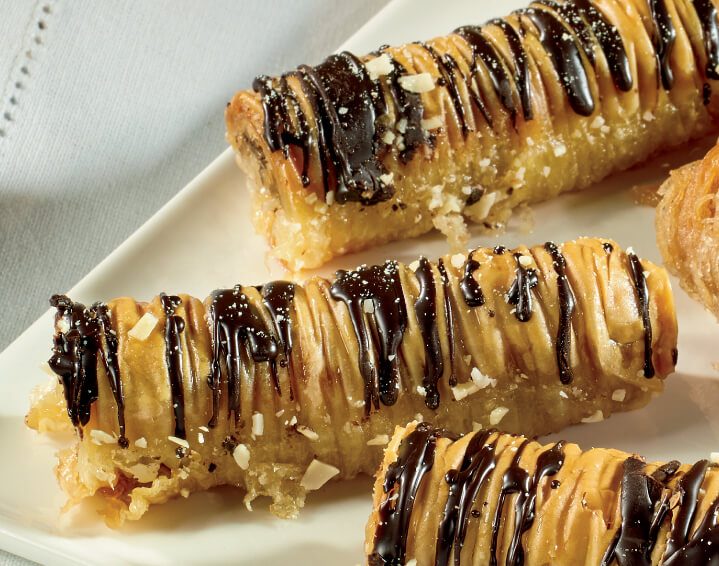 When making saragli and nut rolls, several sheets of buttered phyllo are laid out, and a thin layer of ground nuts is spread across 3/4 of them. A rod about 3/8-inch thick is used to roll up the phyllo/nut mixture. With both hands placed on the ends of the rod, the baker pushes the rolled-up phyllo towards the center, creating creases or ripples. It is scored to form desired portions and baked, then drizzled with sweet syrup. Some bakers will also drizzle chocolate and slivered almonds over the finished product.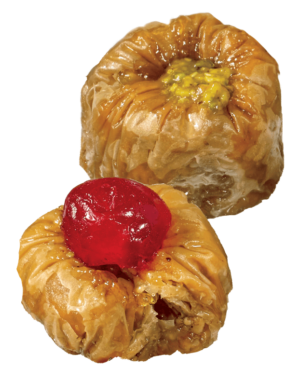 Bülbül yuvası (also called the "nightingale's nest" or "belly button") is made like saragli, but the last half-inch of the buttered phyllo is left unrolled so that it can be the base of the center. The rolls are formed into a hollow cylindrical shape, baked, and drizzled with sweet syrup; then the hollow center is filled with crushed pistachios or candied cherries.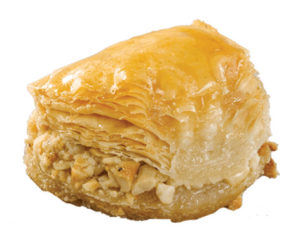 Roses are made of fifteen layers of elongated oval cuts of phyllo that are folded over and stuffed with ground cashews or chopped pistachios, drizzled with butter, baked, and then lightly covered with rose water.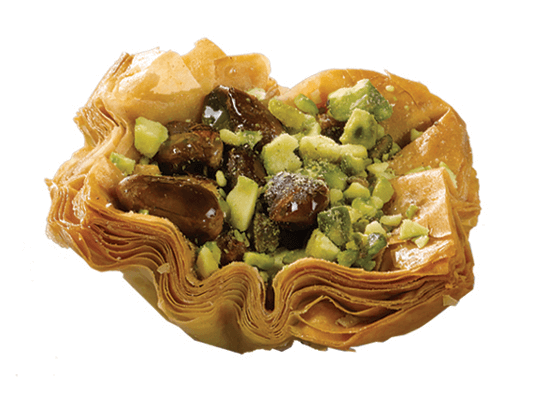 Bird's nests vary in size, but typically, three-inch square or circular sheets of phyllo are buttered and layered on top of each other and placed in a muffin tray. Whole and chopped pistachios are placed in the center of the phyllo, which is then baked and drizzled lightly with sweet syrup. 
Another variation of baklava is made with kataifi, which sometimes is erroneously called "shredded phyllo." Kataifi dough starters are made when liquid batter (the consistency of watery pancake batter) is poured through a series of holes onto a hot copper plate. When the strands of liquid begin to "dance" on the hot plate, they are removed, which semi-dehydrates them. There is early evidence of this type of dough in some stories featured in One Thousand and One Nights. 
There are instances where a pound of phyllo dough is taken out of the packaging, and while the phyllo is still rolled up, cut with a knife into thin slices. This shredded phyllo dough can be used as a substitute for kataifi dough.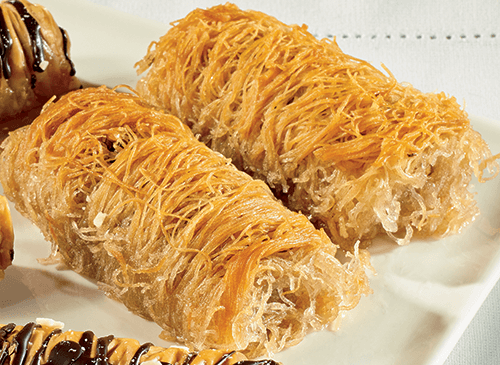 Kataifi pastry is an individual dessert that has chopped, spiced walnuts laid on the strands of kataifi dough that are rolled up, baked, and drizzled with sweet syrup.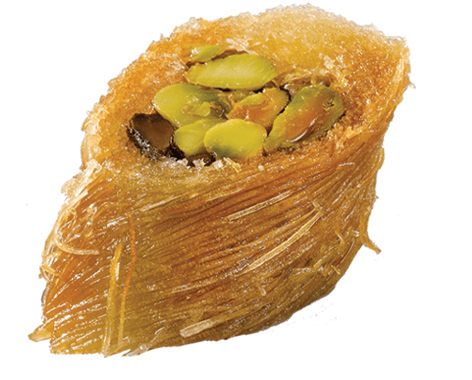 Burma, borma, or mbrwma is kataifi dough rolled around cashews or pistachios. The log is twisted to form a rope and fried in butter before being drizzled with a liquid made of rose water and sugar. It is then sliced into individual diagonal portions.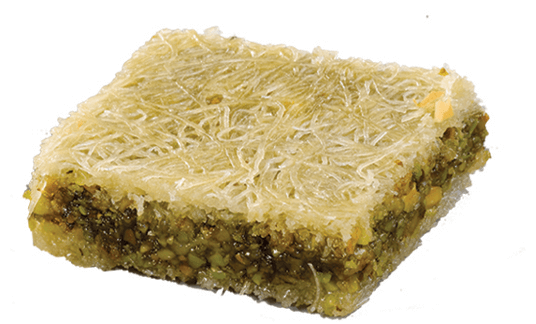 In balouria, ballourie, or ballorieh, a very thin layer of kataifi dough lines the bottom of a baking pan. A layer of finely chopped pistachios is packed on top of this thin layer, and a second thin layer of kataifi dough tops the nuts before a baking pan of similar size to the first one is pressed on top. This mixture is baked for a very short period of time, drizzled with rose water, and cut into squares.
Other Azerbaijani variations utilize rishta (a liquid made from rice flour or wheat starch) that is poured over a hot copper plate through a special funnel. The semi-dry strains of rishta are removed from the plate and used to create layers between which pistachios are placed. This funnel is used to make rishta pakhlava, Guba pakhlava, and Sheki pakhlava. Guba pakhlava is known for its brilliant red color, which is created when the top layer is coated with a mixture of saffron and red coloring. This recipe consists of approximately fifty layers of rishta. Sheki pakhlava, sometimes called Sheki halva, is made with rishta filled with hazelnuts, cardamom, coriander seeds, and sweet syrup. These variations are usually prepared in large round pans. 
Baklava can be served by itself or with fresh fruit, ice cream, or whipped cream. In parts of Turkey and the Balkans, baklava is often topped with kaymak (clotted cream). It is enjoyed by many nationalities, and no matter the variation or the name, it will still smell sweet. 
---
Chef Demetrios Haralambatos is the Corporate Executive Chef of Kontos Foods Inc. 
Photos in this article were provided by Kontos Foods Inc., which has given permission for their use in Halal Consumer Magazine.